Contact DCU for more Information:
Dublin City University
Glasnevin
Dublin 9
Web: www.dcu.ie
General Enquires
Tel +353 1 7005000
Admissions
Tel: +353 1 700 5338
Graduate Research Office
Tel: +353 1 700 5136
 
International Office
Tel: +353 1 700 7411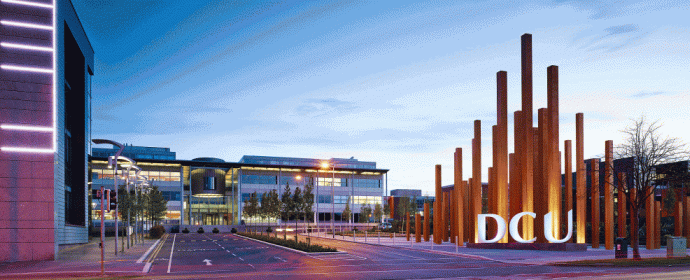 Dublin City University (DCU) is a young and vibrant university, situated on an 85 acre campus five kilometres/three miles north of the River Liffey close to the city centre and just a 15-minute drive from Dublin airport. With the city just a short bus ride away, students of DCU have the best of both worlds; the social and cultural benefits of city life, but with the security and vibrancy of a university campus built very much for today.
With a student population of almost 11,500, DCU has grown rapidly in scale and performance since being established as a university just 21 years ago. Unconventional by nature, DCU broke with the traditional mould and introduced new approaches into the Irish education system. DCU's focus is unique in Ireland: the University, its staff and students all set out to develop high quality, high value learning with a determination to hold the position as Ireland's most innovative and market-driven University.
DCU has developed its own research specialisms and has created a number of national centres of excellence that have transcended traditional boundaries. The design of the campus and the bright modern architecture make DCU a dynamic and attractive place to study. DCU offers over 60 undergraduate programmes, 70 postgraduate programmes, as well as the opportunity to carry out postgraduate study through research. Study abroad students are welcome in all of our Faculties. Postgraduate research supervision is provided on a broad range of subject areas across all disciplines, including technology, engineering, business, communications, humanities, science and health.
The University prides itself on the DCU Student Experience, with the University commended for the quality of the learning experience and the friendliness of the campus. Our aim is to ensure that each student who studies at DCU receives personalised attention and every opportunity to develop themselves academically, professionally and personally.