Institution
Trinity College Dublin
Subject / Area
Economics
Engineering and Technology
Mathematics and Statistics
PhD Studentship in Electric Vehicle Charging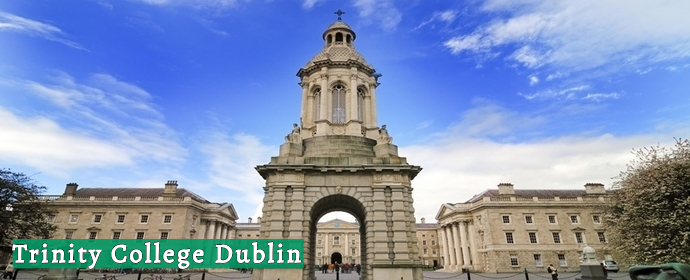 Post Status: Fixed-term (Full-time): 4 years.
Research Group / Department / School: Trinity Centre for Transport Research and Innovation for People Dept of Civil, Structural & Environmental Engineering
Location: Simon Perry Building,  Trinity College Dublin, the University of Dublin College Green, Dublin 2, Ireland
Reports to: Principal Investigators, Assoc Prof Brian Caulfield and Prof Aoife Ahern (University College Dublin)
Salary: From €18,500 annual stipend plus academic fees (EU or non-EU)
Closing Date:  Friday 18th November 2022 at 17.00 hours (Irish Standard Time)
NOTE: Applicants must have been resident in an EU member state for 3 out of the last 5 years to be eligible for EU fees.
Post
A 4-year PhD Studentship is available to new entrants/students for entry in March 2022 (or thereafter). The PhD studentship aims to support and develop a talented research student and is awarded competitively on academic merit.
Post Summary
The successful candidate for this position will conduct research on the charging infrastructure needs for electric vehicles. The research will examine the charging infrastructure network required to get high levels of penetration of electric vehicles in Ireland. The work will focus upon how a larger network of fast chargers could facilitate individuals choosing to purchase an electric vehicle. the end goal of the research will be to produce a model that incorporates spatial, temporal, behavioral and infrastructural components that determine the optimal network of public charging points.
Overview of NexSys - "Next Generation Energy Systems"
The decarbonisation of the Energy System will play a vital role in reducing greenhouse gas emissions and help mitigate the impacts of Climate Change. The technical and societal challenges inherent in decarbonisation are set to be enduring challenges of the mid-21st century and ones that will require a whole of society approach, encompassing academia, industry, government, and citizens.
NexSys is a newly established All Island SFI Strategic Partnership Programme focussed upon the transition to a net zero carbon energy system. It is a unique partnership bringing together a multidisciplinary research team, industry, and policy makers to tackle fundamental research questions to be addressed as part of the transition to Net Zero. Hosted by UCD Energy Institute, NexSys brings together academics from nine institutions across the Island of Ireland (UCD, TCD, DCU, ESRI, Maynooth University, UCC, NUI Galway, Ulster University and Queen's University Belfast) to work together to meet the unprecedented scale and complexity of the challenges associated with the energy transition. 
Funding Information
The NEXSYS project is an All Island SFI Strategic Partnership Programme.  
Person Specification Qualifications
A minimum of a 2.1 Honours degree.
(Applicants awaiting final degree results are welcome to apply. Please include grade achieved in previous years, in the interim).
Knowledge & Experience (Essential & Desirable)
Degree in Engineering, Mathematics, Economics or Planning
Knowledge, interest in and experience of driver behaviour and traffic analysis. 
Application Instructions
Please click on the Apply button below for the full job description and application instructions.