Institution
Trinity College Dublin
Vacancy Category
Professional / Managerial / Administrative
Subject / Area
Creative Arts and Design
Engineering and Technology
Other
Production Officer - Science Gallery Dublin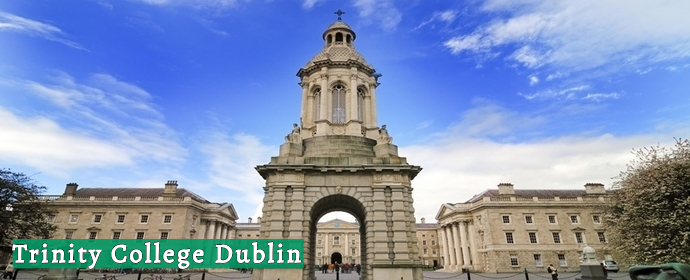 Post Title: Production Officer
Post Status: 3 Year Fixed term contract (Full-time)
Department/Faculty: Science Gallery, Trinity College Dublin, the University of Dublin
Location: Science Gallery, Trinity College Dublin, the University of Dublin College Green, Dublin 2, Ireland
Reports to: Exhibition Manager
Salary: This appointment will be made on the Administrative 3 salary scale at a point in line with current Government pay policy
Hours of Work: 37 hours per week
Qualifications:
A third level qualification in a science, technology, arts or related discipline would be advantageous
Qualification or experience in production in a cultural institution or similar organisation
Closing Date: 12 Noon (Irish Standard Time) on Tuesday, 14th August 2018
The successful applicant will be expected to take up post as soon as possible.
Post Summary
Science Gallery at Trinity College Dublin is looking to appoint an engaged, dynamic, talented, creative and experienced production officer to work in-house with the team and external suppliers to communicate the aim of the organisation igniting creativity and discovery where science and art collide. The gallery engages over 400,000 visitors annually, has a target demographic of 15-25 year olds and is an informal learning institution with every aspect focused on public engagement in the arts-science field.
Science Gallery Dublin is a project pioneered by Trinity College Dublin and its relationship to the university is of extreme importance, Science Gallery is part of the Global Science Gallery Network, with the goal of establishing a network of eight Science Gallery nodes worldwide by 2020. Science Gallery London is planned to open at Kings College in 2018.
The production officer will provide key administrative support for the programming and exhibitions team and also work as Registrar for all Science Gallery exhibitions. The production officer will liaise directly with the Science Gallery Exhibitions team including the Exhibitions Manager, Head of Programming and Operations Manager on day to day activities in the gallery.
Science Gallery Dublin presents four exhibitions annually on diverse themes - from the future of food to the future of play. This is an exciting opportunity for an individual who has a hunger to express creative energy with one of the city's most forward thinking institutions, sharing the commitment of a strong overall team.
The ideal candidate will have an existing knowledge or enthusiasm for some or all of the following sectors in Ireland; science, art, design, technology, and the cultural and creative industries. They will have experience in cultural production, a passion for Science Gallery Dublin's mission and vision and be suberb problem-solver with a creative approach to the challenge of Science Gallery exhibitions. Candidates should note that due to the nature of the role, that presence at evenings and weekends may be required.
Application Instructions
Please click on the Apply button below for full job description and application instructions.